The Table
Charles Cowen - belonging to the Brotherhood of the Marmite d'Or - is at the lights of La Forge.

The metal of his stoves has blushed for nine years under the flames of his furnace M. His spice cupboard overflows small bottles with titles, colors and multiple smells, arranged according to a logic that only the artist knows.
His food is local and organic for the most part. Aude - as well as the neighboring Ariège - allows many farmers to produce - and possibly transform - in a biological or reasoned way.
There are many distribution networks and sales outlets for whom is interested.
This is the case of La Forge for flour, eggs, milk, yogurts, cheeses, vegetables, fruits, meat, chocolate ...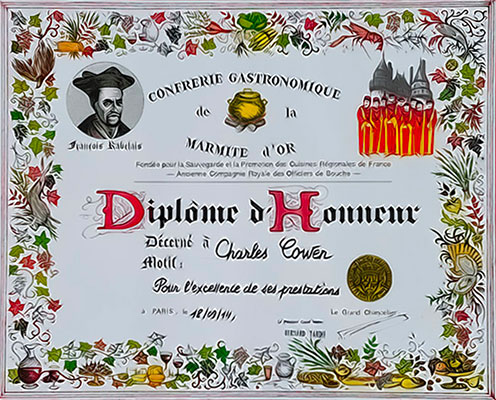 The table d'hôte implies that the races are made in anticipation of specific meals. That's the case, so everything is cool. What luck !
A table shares the same meal. The only questions prior to the development of the menu: Allergies or deep aversion to something ?
At La Forge, the bread is kneaded by hand and baked on the spot.

The wines are from the terroir - Cabardès, Corbières or Minervois - organic for some.

Breakfast is served in the main building, outside on sunny days.
It includes: tea, coffee, milk, hot chocolate, orange juice, bread, croissants, cake, cereals, cheese and cold meats, jams, yogurts, fruits.

• Breakfast : included in bed and breakfast (and for unusual accommodation, the first morning only and by reservation for those staying in a guesthouse or unusual accommodation from their second morning.
• Quick lunch and by reservation from May to September, on the terrace in front of the main house or
• Sunday Lunch (or other day of the week); a unique menu and a beautiful table set for a minimum of eight people including starter, main course, cheese and dessert.



• Dinner is by reservation until the day before, in the main building, or in front of it, in summer : It includes starter, main course, cheese and dessert,
• We prepare the cassoulet, by reservation at least 48 hours. in advance.
• For business travelers : starter + main course + cheese or dessert.

At the Forge we can also celebrate: New Year's Eve, Festive meals / Truffle meals / Birthdays ... Over the calendar, seasons ...
On reservation.